Détails de la nouvelle
Connexion
Dernières nouvelles
<-- Retour au nouvelles archivées
---
Province withdraws request for emergency order to end N.S. Crown attorneys' strike
25-10-2019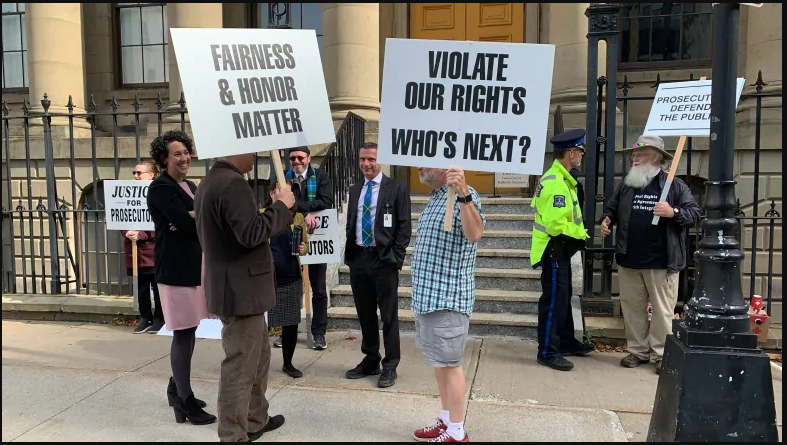 The government sprang Bill 203 on the Crowns last week after the two sides failed to reach a contract agreement and the Crowns were poised to exercise their contractual right to binding arbitration. (Patrick Callaghan/CBC)
Lawyers for the Nova Scotia government have withdrawn a request to have a court injunction heard on an emergency basis as the province seeks to end what it calls an "illegal" strike by Crown attorneys.
Both sides were in Nova Scotia Supreme Court court Friday for a scheduled hearing into the matter.
The province passed a law Friday declaring the prosecutors an essential service and officially ending their the right to arbitration. However, shortly after, the government would not proclaim the law.
Justice Heather Robertson said in court that passage of the law, Bill 203, would make the issue of an emergency injunction moot.
The Nova Scotia Crown Attorneys' Association is fighting the constitutionality of the law.
It was prepared to oppose the injunction Friday, saying the province rendered its existing collective agreement null and void by refusing to honour a clause allowing binding arbitration.
Gail Gatchalian, the lawyer representing the Nova Scotia Crown Attorneys' Association, said Friday's injunction application was 'a waste of time.' (CBC)
Gail Gatchalian, the lawyer representing the Crown attorneys' association, said the injunction application was unnecessary and the association would be seeking court costs in the matter.
"Today was a waste of time and, in fact, that was conceded by lawyers for the government this morning. There was no emergency, they knew the bill was going to be passed and proclaimed into law today."
The province says the strike by Crown attorneys risks public safety and has caused some cases to be dropped.
Later Friday, the Liberals brought Bill 203 before the Nova Scotia House of Assembly. It revokes the Crown attorneys' right to binding arbitration, a right they agreed to extend in their last agreement in exchange for a smaller wage increase, and requires Crowns to be deemed an essential service.
"They don't respect public sector unions in this province," said Crown attorney Rick Woodburn following the court hearing Friday. "And we've seen that time and time again.
"They will take away and smash and trample on our rights. And the question is whose rights are going to be trampled next."
He denied the government's assertion that the Crowns have derailed contract negotiations by refusing to budge from their demand for a 17 per cent wage increase.
Crown attorney Rick Woodburn and Perry Borden, president of the Nova Scotia Crown attorneys' association, are shown at the Nova Scotia legislature. On Friday, the government was voting on a bill that would prevent Crown attorneys from striking or to have binding arbitration. (Patrick Callaghan/CBC)
"The premier has stated again and again that we would not move off 17 per cent. I would say that in conciliation, we came down significantly from that number in bargaining. That is not what you're hearing from the government."
"We recognize that the taxpayers aren't necessarily going to foot the bill for Crown attorneys at 17 per cent. So in bargaining, we brought our numbers down."
He said the government was stuck on the seven per cent increase.
"And in fact, they said seven per cent, you can't have anything else above that. And we finally said no at the end of conciliation ... we're merely exercising our constitutional rights to go to arbitration. We know a week later they filed this bill. They knew all along during our entire process that they were going to file an unconstitutional bill."
Crown attorney Rick Woodburn speaks to media after the Nova Scotia government withdrew its request for an emergency injunction on Friday morning. (Melanie Leger/CBC)
The Crown attorneys have said they will return to work once the bill is passed, but will continue to challenge the bill in court.
It won't be easy, warned Wayne MacKay, a Halifax law professor and Canadian constitutional law expert.
"The strongest case the Crowns have for their constitutional challenge is whether it infringes on … the [Charter of Rights and Freedoms] — the right to collective bargaining and free association," he told CBC Information Morning Halifax on Friday.
"It has to be effective collective bargaining, which means you have to be able to have some kind of a weapon to use. The legislation will take away the promised binding arbitration, which was an effective mechanism and guaranteed for 30 years."
While the association may have a good constitutional argument, bringing it before multiple levels of the Canadian court system, all the way to the Supreme Court of Canada, will be a lengthy process.
"You have to go to the courts, and if you go to the courts, then you're going to start with Supreme Court trial division, then a court of appeal, then Supreme Court of Canada," MacKay said.
The cost can skyrocket, he said.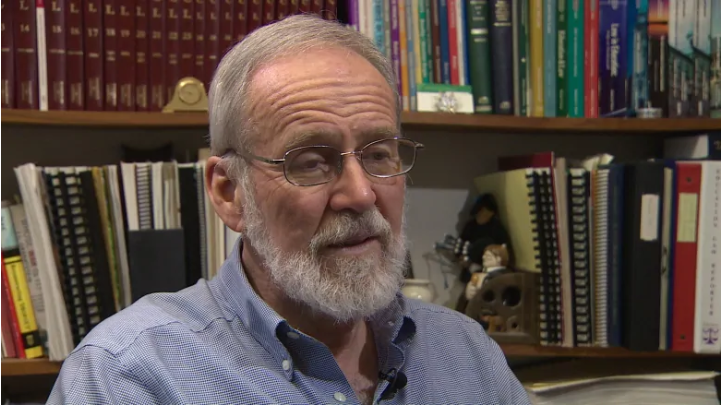 Halifax law professor Wayne MacKay said a constitutional argument against Bill 203 will like be lengthy and costly. (CBC)
"Usually hundreds of thousands of dollars later, taxpayer money and union money, and a very long time. Usually we're looking at in most cases, years."
However, Gatchalian said the legal wrangling doesn't have to drag on. The government has an option to apply to have the case heard before Nova Scotia's Court of Appeal.
https://www.cbc.ca/news/canada/nova-scotia/nova-scotia-crown-attorneys-court-injunction-bill-1.5335029