News details
<-- Back to archived news
---
Striking Quebec lawyers, notaries to make province counter-offer
24-02-2017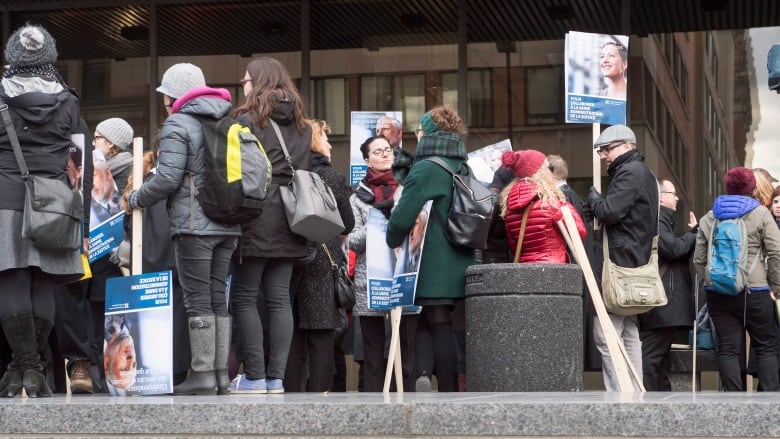 Quebec government lawyers and notaries form a picket line at the courthouse Monday, Oct. 24, 2016 in Montreal. Their union is sending the government a counter-proposal on its latest offer. (Ryan Remiorz/Canadian Press)
Government lawyers and notaries said they'll make a counter-offer to Treasury Board President Pierre Moreau's fifth and final offer which Moreau gave their union, LANEQ, until 5 p.m. Friday to accept or reject.
"We refuse to submit to an ultimatum," said union president Jean Denis, in a statement issued at 5 p.m. Friday.
"We hope the government will seriously examine our counter-proposal."
The 1,100 lawyers and notaries have been on strike since October and have been without a collective agreement since March 2015.
The Treasury Board offer included, among other things, a proposal to pay those on strike on par with Crown prosecutors.
Union accuses government of disrespect
When the offer was received, LANEQ said in a statement that it was frustrated by the way the government made the proposal.
The union accused Moreau of trying to limit the negotiation period to 24 hours after an 18-week-long strike.
The union also accused Moreau of "disrespect" towards the negotiation process for announcing the offer during a news conference.
Moreau has not officially ruled out legislating the lawyers and notaries back to work.
The union says there was a strategy behind the timing of the strike: it leaves lawmakers paralyzed at a time when dozens of measures are waiting to be pushed ahead, such as the provincial rules on dangerous dogs, promised since the summer.
with files from Radio-Canada's Sébastien Bovet
http://www.cbc.ca/news/canada/montreal/quebec-lawyers-notaries-strike-deadline-1.3997607