News details
<-- Back to archived news
---
Saskatoon police want public 'to be aware but not afraid' after courthouse bombing
30-03-2017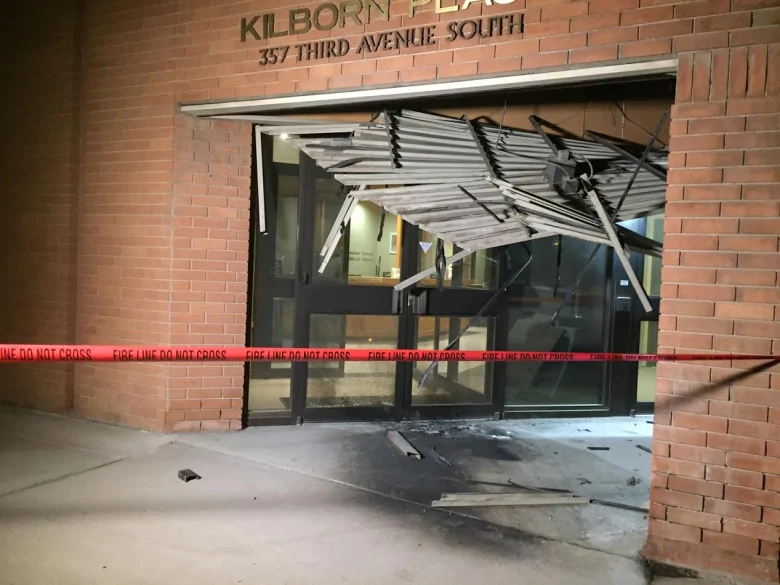 The scene at provincial court. (Dan Zakreski/CBC)
The Saskatoon Police Service is cautioning the public to not panic after an improvised explosive device was set off at the city's provincial courthouse Wednesday night.
There were no injuries, but the exterior of the building was damaged.
"We want to encourage the public to be aware but not be afraid," said Saskatoon Police Sgt. Randy Huisman. "We would like them to be vigilant and report any suspicious activity."
Huisman stressed there were no links to international terrorism, and that the bomb in question was at the low end of the destructive spectrum.
Many police units, from the bomb squad to canine units trained in finding explosives, have been mobilized to try to find the person responsible.
For roughly half an hour, police blocked exits to a bar located a block away after the explosion to identify any suspects who may have come into the establishment.
Meanwhile, Saskatchewan's Ministry of Justice called the event very concerning, adding it will work with Saskatoon Police to find who was responsible.
The ministry said provincial courts will continue today at all points across Saskatchewan. The provincial government will review security to make sure all courts in Saskatchewan are safe.
'A huge bang'
Engineer Scott Dempster was out with a friend playing Pokemon GO when he saw a small fire coming from the courthouse.
He and his friend stopped to watch from across the street. Suddenly, they heard a loud bang and saw an explosion.
"I thought we were just watching a small fire, to make sure it didn't spread," he said. "Then, all of a sudden, there was a huge bang."
Dempster's 12-year-old Shih Tsu cowered on his lap at the loud noise. He and his friend got out of their car to take a closer look but kept their distance.
They called 911, and fire fighters quickly arrived and extinguished the blaze.
Police spoke to Dempster, his friend and others who had gathered to watch the scene. He didn't see anyone fleeing the scene, but the fire was already burning when he arrived.
"It's not something you expect in Saskatoon, Saskatchewan," he said.
Like a 'Molotov cocktail'
City councillor Hilary Gough stumbled across the scene shortly after 11 p.m. while she was riding her bike home.
She knew there was something odd when the car in front of her stopped in the street with its hazard lights on. The fire department arrived shortly afterward.
"You could tell there was some significant damage to the front entrance to the building," she said. "My initial thought was, it kind of looked like somebody threw a Molotov cocktail through the front window."
Gough said there was a small fire outside the building when she arrived which was quickly sprayed down by firefighters.
"It just looked very puzzling," she said. "It didn't look like an active fire in the sense that it was growing and existing inside the building in any major way."
While the city has recently received a number of false "white powder" scares over the past several months that have shut down traffic and cost the city thousands of dollars, Gough doesn't believe anyone should panic.
"I'm certainly concerned about seeing this kind of activity in our city," she said. "My initial thoughts aren't that this is indicating some sort of major thing that we need to be concerned about in a way that we haven't been before."
Suspicious package in February
In February, police found a backpack containing fireworks and roman candles outside the courthouse, along with a suspicious-looking device that was being tested.
The explosives disposal unit was brought in to destroy some of the items.
Police said they had no evidence that the two events were connected.
http://www.cbc.ca/news/canada/saskatoon/saskatoon-explosion-courthouse-1.4047122