News details
<-- Back to archived news
---
Public sector lawyers begin general strike
24-10-2016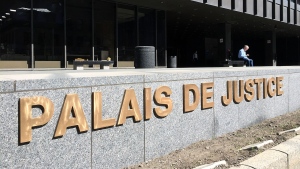 A man sits on a bench outside Montreal's courthouse on June 14, 2016 (CTV Montreal/Pedro Querido)
Public sector lawyers and notaries start their unlimited general strike Monday with demonstrations outside courthouses throughout the province.
Quebec's 1,100 government lawyers have been without a contract for more than a year and a half.
The strike could delay the drafting of new legislation and slow court proceedings. The law professionals represent Quebec in civil, administrative and criminal proceedings.


They want to draw attention to the importance of their jobs, said Francois Desroches-Lapointe of Lawyers and Notaries of Quebec.

"Most of the time we work in the shadows, but we are the first defence for the rights of individuals, because we are the ones counselling the government before they go to a judge of private lawyer, the government asks our advice with respect to rights," he said.

Legal aid is not affected by the strike, and anyone with a case involving the government – a tax-related hearing, for example – is expected to show up. Essential services are being maintained.
http://montreal.ctvnews.ca/mobile/public-sector-lawyers-begin-general-strike-1.3128335