News details
<-- Back to archived news
---
PSAC rejects compensation offer for Phoenix pay fiasco, other groups accept
03-05-2019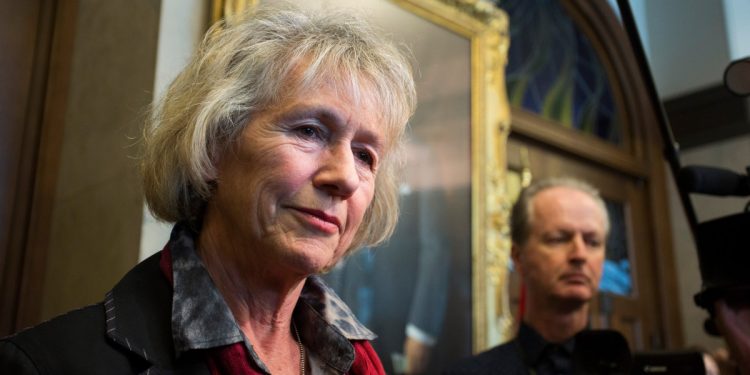 Treasury Board President Joyce Murray said in a department press release announcing the tentative deal that the pay issues are completely unacceptable and that she is committed to compensating those impacted. The Hill Times photograph by Andrew Meade
The federal government says it has reached a tentative deal with some groups on compensation for workers affected by problems with the Phoenix pay system. But the Public Service Alliance of Canada, which represents the majority of federal employees, has rejected the offer.
The government said the tentative agreement reached by a joint union-management committee would cover more than 146,000 people.
"We believe in making this right for all employees and recognize the real mental and emotional stress, and financial impact that the Phoenix pay system has had on public servants," Joyce Murray, president of the Treasury Board, said Friday in a release.
"These pay issues are completely unacceptable and we are committed to treating employees fairly and to compensating those impacted."
Under the terms of the deal, compensation is to include a one-time provision of additional annual leave for employees and a cash pay-out equivalent to this leave for former employees or the estates of deceased employees.
Additional compensation, evaluated on a case-by-case basis, will be provided for those who missed opportunities to earn interest on savings accounts or other financial and capital investments, the release says. It would also include paid interest on loans or debt due to delays in receiving severance or pension payments.
Some of the groups that have agreed to the tentative deal subject to ratification include the Association of Justice Counsel, the Professional Institute of the Public Service of Canada, the Association of Canadian Financial Officers and the Canadian Association of Professional Employees.
The agreement is subject to ratification by group members and the Treasury Board.
PSAC, which represents 180,000 workers, rejected the tentative offer Friday.
"PSAC could not agree to this meagre proposal," union president Chris Aylward said in a statement.
"Our union will not trade in four years of our members' pain and suffering for a settlement that does not adequately compensate for the terrible toll Phoenix has had on their lives and that of their families."
PSAC says the government is offering general compensation of just 1.25 days of paid leave per year, for four years.
According to PSAC, the fiasco forced many public servants to "delay career advancement, cancel parental leave, experience high levels of anxiety, reduce their support of family members and delay retirement — to name but a few of the serious adverse effects."
The union says a backlog of 240,000 cases is not resolved and more than 100,000 workers are still waiting to have their last collective agreements implemented.
Aylward said PSAC also found other elements of the government's compensation proposal to be unacceptable, such as imposing a $1,500 threshold before some compensation claims can be made and preventing members from taking cash in lieu of the proposed paid leave.
Farees Nathoo, a Treasury Board spokesperson, said the government is disappointed that PSAC has rejected the offer.
"But we remain committed to negotiating in good faith to reach an equitable agreement that is fair for employees and good for Canadians."
https://www.burnabynow.com/psac-rejects-compensation-offer-for-phoenix-pay-fiasco-other-groups-accept-1.23811638