News details
<-- Back to archived news
---
Crown prosecutors sign new contract with N.B. government
13-04-2017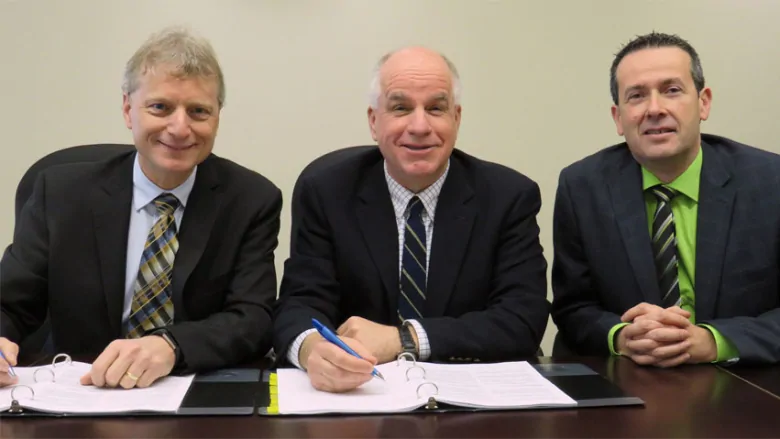 Chris Titus, president of the New Brunswick Crown Prosecutors Association, pictured here with Treasury Board president Roger Melanson, left, and Attorney General Serge Rousselle, right, said earlier that pay was the main stumbling block to an agreement. (Government of New Brunswick)
New Brunswick Crown prosecutors have a new five-and-a-half-year contract that offers general economic increases of 4.8 per cent.
There is also an "adjustment" tied to the discontinuance of the retirement allowance benefit, according to the provincial government.
A news release didn't explain "general economic increases" and no other details were immediately available.
The government signed the collective agreement with the Professional Institute of the Public Service of Canada, the union representing 63 Crown prosecutors and family Crown counsel on Thursday.
No one from the union was available for comment Thursday.
New Brunswick prosecutors have been the lowest-paid in the country, the institute's vice-president, Steve Hindle, has said.
Job action was being "seriously contemplated" after 97 per cent of members rejected the government's previous offer of a one per cent wage increase for each of the next four years, Hindle said.
A tentative agreement was reached in January, after a meeting with a conciliation board.
The previous contract expired March 31, 2013.
http://www.cbc.ca/news/canada/new-brunswick/crown-prosecutors-collective-agreement-new-brunswick-1.4069267